Hello everyone! It's Friday, and I'm really excited about some of the future posts on the blog. Here is a quick preview of what's to come!
Crock Pot Fajitas
I have found an embarrassingly easy recipe for crock pot fajitas. It takes maybe five minutes of prep work, and that's about it. My husband doesn't like Mexican food (I married him anyways, haha), because it's too greasy and fatty. This recipes is a good compromise. I get the mexican flavor without the artery clogging fats...
aka the best part about Mexican food
.
Favorite Things Linkup
SO EXCITED FOR THIS! Kylie from
Lip Gloss and Lunges
and I have created our very own linkup. We both are into sharing our favorite things, and we would LOVE to hear some of yours. This linkup will happen monthly on the first weekday of every month. Don't worry, I'll be
annoying you
reminding you when it is coming up. Please, please, please link up with us and share some of your favorites for November. It can be anything from clothing, beauty products, food, home goods, tv shows...you get it, ANYTHING that you're loving. Check out my "Favorite Things" tab up top for more info.
Iron Horse Race Recap
Last weekend, my family and I did he Iron Horse half marathon in Midway, KY. I've been running A LOT lately, and this wasn't the best race for me. Check out some of the pictures and my review to see if this is a race that you would be interested in for next year.
Gel Nail Tutorial
I'm back to doing my own gel nails again, and I'm loving some of the new fall nail colors. When I hear my friends talk about getting their gel nails done for $20-25, I want to shake them. For a little bit of money up front, it is SO much easier to do them yourself... AND instead of paying for a tip, you can give yourself some chocolate. Next time I do my nails, I'm going to take detailed pictures and do a tutorial to show you all how easy it is!
Marathon Updates
So, as you can see, my weekly and monthly mileage is increasing slowly but surely. This weekend I have an 18 mile run scheduled, and I'm SO nervous. ("I'm shaking in my little space boots." <name that movie) At the end of my two 16 milers, I was dead...done, so I have no idea how I'm going to squeeze out two more miles (or ten for that matter).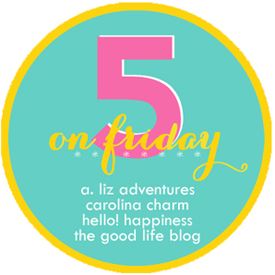 That's all I have for now. Have a wonderful weekend, and start thinking of your Favorite Things for November!