Hey guys!
I had originally planned on doing a vacation recap today, but I saw that Jake and Holly were doing a "Finish the Sentence" linkup, and I had to do it. I want that Starbucks card. Ha!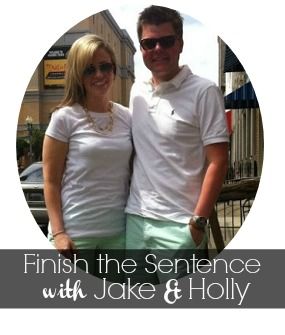 My happy place...
...is on the beach, with my husband, being served "Dirty Monkeys."
(The best drink ever...think Mudslide+fresh, blended bananas- a good 600 calories a piece?)
Caught sucking down the Dirty Monkeys on our honeymoon


Whatever happened to...
... people using spellcheck or giving what they post a second glance? Sure, everyone makes mistakes, but some just make me want to rip my hair out.
So what if I....
.... only wear real pants if I HAVE to. I'm pretty sure the garage door guy that came to the house today mistook me as a squatter instead of the actual resident. #bumstatus
E! needs a reality show about...
... working in the ER. It is way better than the Kardashians.
Read my post about what it is like to be an ER nurse here.
My go-to fast food meal is...
... a 6 inch tuna sub from Subway. I get one after every run over 10 miles. It's a ritual. If I'm feeling particularly bad, I get nachos from Taco Bell, but I always regret it.
Post run compression socks and Subway.
You might not know that I...
wrote a post a while back about things you may not know about me. Check it out
here
.
Oh dear...
The hottest quarterback in the NFL is...
...meh, I don't know. I'm usually doing something else while George watches football. I think Tom Brady would be cute, but he's such a turd, so it completely ruins it.
If I could....
... finish this marathon in December, I'd be thrilled. I'm reading a ton of blogs about marathon training and I'm already feeling unprepared and doubting myself. I have at least 2-3 minor panics about it each day. "What if it's 10 degrees out? What if it's raining? What if I get diarrhea? What if I have a cold? What if I can't finish? What if I get a blister?"
My personality is awesome because...
... I choose to be happy. Most of the time, I don't let stuff get to me because life is too short.


Twerking is....
... gross, and makes me scared for what will push the limits next. <old lady statement


I think it's super gross when...
... people smoke around their kids. Then, they bring their coughing babies into the ER in his or her car seat that REEKS of cigarette smoke and I'm all like...
Someone needs to tell Miley Cyrus....
...to put her tongue back in her mouth...and maybe buy a pregnancy test.