Happy Hump Day guys!
I have joined another linkup with Shannon at
The Life After I Dew
. I'm loving the idea for this linkup! Putting your imperfections out there for the world to see
is therapeutic
lets the world know that you are a real person. I love reading these and saying, "I do this too!"
Okay, so here goes nothing...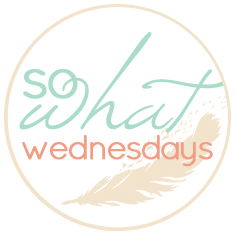 I don't wash my face every night before bed. I use a makeup wipes most nights, but when I get off work, I fall face first into bed.
I DVR reruns of Will and Grace and watch at least one a day, even though I have seen them all AND have every season on DVD.
I'm waiting until we have company over to really deep clean the house. I have NO motivation to clean when the weather is warm and I could be doing something else outside.
I get all my news from Twitter and occasionally the Yahoo homepage.
I treat those $10 off cards from Victoria's Secret like they are going to disintegrate at any second. I get one of those puppies in the mail, and I'm off to go spend it IMMEDIATELY. Having one expire is my worst nightmare. <Dramatic much?
I haven't done hardly an research for our Europe trip in August. It's all about adventure right?
I go through our wedding pictures and watch parts of our wedding video at least once a month. I just can't get enough of one of the best days of my life.
I can spend an hour in Charming Charlie and just buy a few things. I want to make sure I'm not missing out, so I take my time! I know the girls that work there are probably sick of asking, "Are you finding everything ok?" "Yes lady, just let me do my thang!"
The only reason I got the Sunday paper was for the crossword puzzle and Sunday ads.
I watch Real Housewives, on the couch, while eating frozen yogurt, and surfing Pinterest. This happens more often than I'd care to say...
What kinds of things are on your "So What?" list?