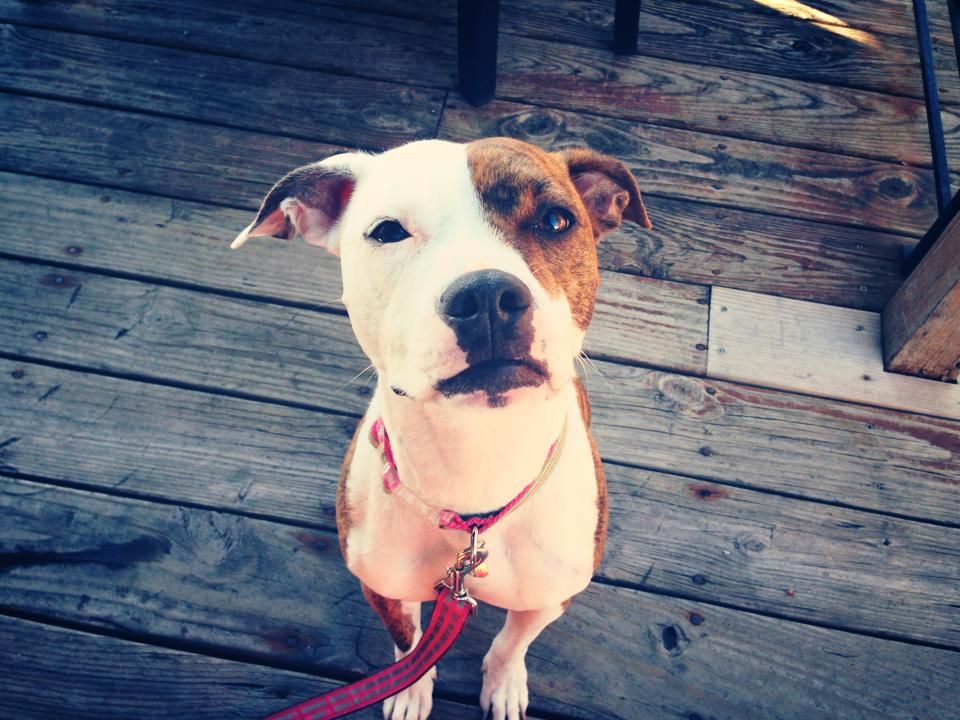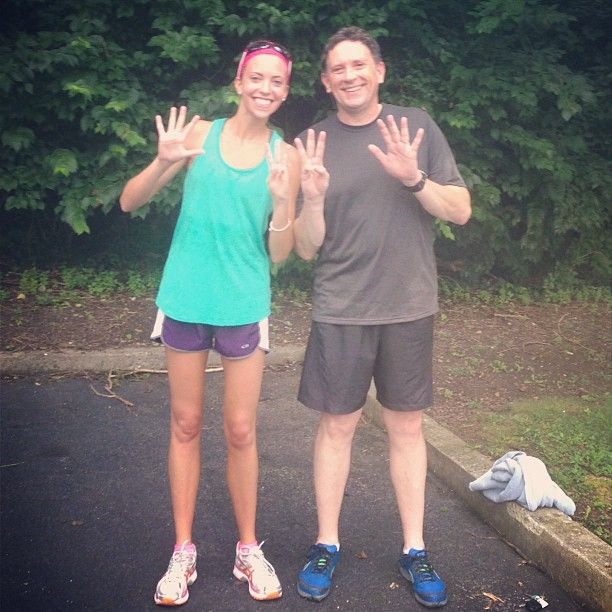 Made my dad take the cheesy 8 fingers for 8 miles pic
Last Sunday, my dad, aunt Lana, and I did our long run of 8 miles.
We ran along a canal that starts in a cute, trendy college area and ends in the ghetto (our 4 mile turnaround point).
By ghetto, I mean GHET-TO.
Like, people get shot in that area on a somewhat regular basis after dark. During the day, it's not so bad, especially if you stay on the canal. Lana had to make a potty stop, so we had to venture into the hood. As we're running by a house on our way to the bathroom in the park, I hear a dog barking and growling. This dog, was a probably 70 lb Pit bull, looking like he was ready to eat our faces. He was enclosed by a 2.5 foot fence that had a 1 foot gap underneath at one point. This dog could have easily gotten to us if he really wanted. So why am I telling you this? It was the first time that I had ever been scared of a dog, and a Pit bull at that!
Anyone that knows me (or reads my side bar) knows that I am a HUGE lover of Pit bulls or any dog really. I own a Pit as do my parents. Seeing this dog snarl and bark made me realize why everyone looks at me like I'm crazy when I say that I have a Pit bull. I feel that many people automatically think of a big, beefy dog that is made for fighting with "locking jaws." This couldn't be further from the truth. Sure, some pit bulls sadly, are forced to fight by their cruel owners. Some have been beaten and so poorly taken care of, that they are aggressive. This may have been the case with the scary dog, but this is NOT the norm
.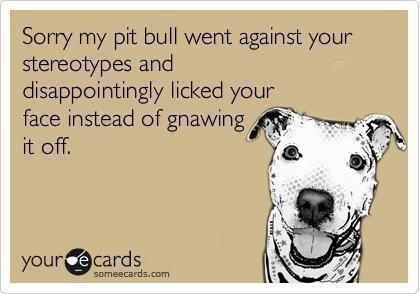 In fact, Pit bulls used to called "The Nanny Dog" because of their "
friendly nature, loyalty and stability" per the ASPCA.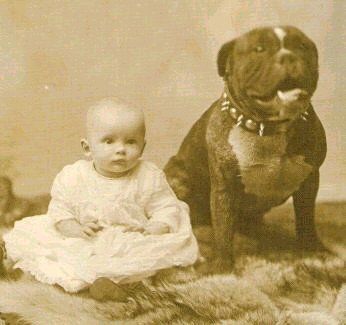 --------------------------------------------------------------------------------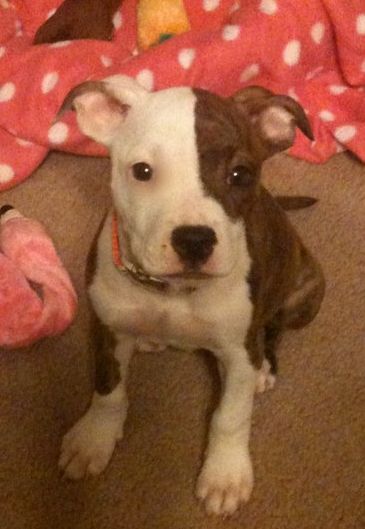 Gracie on the night we brought her home
Gracie was adopted by George and I when she was about 3 months old. She was the runt of the litter, so our vet has deemed her to be "Pocket Pittie" sized. She has all of the typical Pit bull characteristics, hard working, smart, stubborn and athletic. She will burrow under the covers and snuggle right up to you. Gracie will happily play with any dog from Rottweiler to Yorkie, and she has never shown an ounce of aggression.
Gracie is a member of our family.
George and I love her like the furry child of ours that she is. So when I tell people about Gracie, and I get the "you must be crazy to own a Pit bull" response, it is frustrating.
I'm on this rant because people need to give these dogs a chance.

Yes, some Pit bulls are scary (as I have experienced on Sunday), but there are so many out there who are just big babies.

These dogs are not "innately evil" or "bred for fighting."

They are just like any other dog.
If you're ever looking for a companion at the shelter, I urge you to not just walk by the Pit bull mix's cage.

Take a second to stop and get to know this dog.

They may surprise you!
Here are some great places to find reliable information about Pit bulls: