Hello everyone, so I have a grand total of 2 followers. My parents, and somehow...myself. I haven't really told many people about this blog yet, so I'm not too depressed about it.
Anywho, I've decided to do a July Favorite Things post. I love reading other people's favorite products, foods, and ideas. This is my own version of
Oprah's
Emily's favorite things, except much more affordable and definitely more random.
So here it is!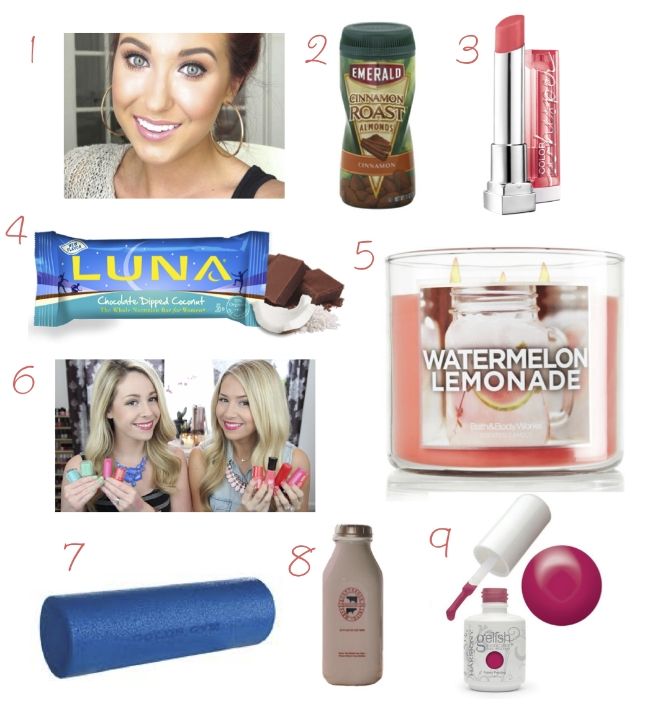 1.) Jaclyn Hill- Vlog Channel Here
I first came across Jaclyn Hill on Pinterest.
This girl has some amazing techniques for makeup, and she uses mostly MAC products (which are my absolute favorite).
Many of her looks are pretty heavy and may make you look a little hookerish, but you can easily tone them down for everyday.
2.) Emerald Cinnamon Roast Almonds
I picked these up at Target when looking for my regular restock of cocoa roast almonds. These are SO MUCH better. They seriously taste like dessert. 150 calories for ¼ cup and only 1 gram of sugar. I'm obsessed.
3.) Maybelline Color Whisper in Pin Up Peach
This is the perfect mix of chapstick and lipstick. It goes on super light and sheer, but shows up enough to give you a little color. Pin Up Peach is the perfect mix of pink and coral.
4.) Chocolate Dipped Coconut Luna Bar
These taste like candy bars.
End of story.
They do have 11g of sugar and 190 calories, but they're worth it.
These have come in handy while working nights when you're dying for a treat at 1:30 in the morning.
5.) Bath & Body Works Candle in Watermelon Lemonade
This smells like summer and is pretty strong but not overpowering. Palm Beach Cooler is a close second. These scents stick around. If you burn it at night, your house still smells good the next day.
6.) Eleventh Gorgeous- Vlog Channel Here
These girls are hilarious!
At first, you're definitely convinced that they're acting, but the more you watch, you realize that this is actually how they are.
They are obsessed with finding beauty bargains.
Most of the products that they review are from the drugstore and Target, so everything is super affordable.
7.) Foam Roller
This thing has been my best friend since I've started running. I roll out my IT band, shin splints and lower back. It feels like you're getting a deep tissue massage while stretching out those places that are impossible to stretch. If you have shin splints, this is a must!
8.) Chocolate Milk
I have pretty much sworn off chocolate milk for years. I wasn't crazy about dairy, the extra sugar, and all around "junk food" aspects of chocolate milk. With all of this being true, it is so amazing after a long run. After longer runs (over 6 miles for me), I get some *ahem GI problems. Chocolate milk soothes my belly and is full of carbs, sugar, and potassium. Besides replacing electrolytes, it tastes amazing. Another reason to push yourself to go a few more miles!
9.) Gel Nail Polish
A few weeks ago, I bought my own gel nails kit from Amazon.com. I bought a UV light, base coat, color and top coat, and a few other items. It is so easy to do yourself and saves a ton of money in the long run. I have used it on my toes, and it stayed a good 3 weeks!
What are some of your July favorites? (Anyone?...hahaha)