**(Well, if you want to be super technical, I have "run" one race before earlier this summer. The Indianapolis Tap 'n' Run. It's a 4k "run" where you stop and drink a beer at every kilometer. You have to pay extra to have it timed, and we definitely did not. Our group wore sweat bands and mustaches (there is a prize for best mustache, shortest shorts, and a variety of other ridiculous things).
But back to Saturday, my first REAL race that was timed...
The race was a 5k for the
Joseph Maley Foundation
. Joseph was plagued by illness his entire life until passing away from leukemia at the age of eighteen. His parents set up this race to raise money to "serve children and adults of all abilities." It was awesome to run knowing that you're supporting such a great cause.
The race took place at Eagle Creek Park and, ok, as embarrassed as I am to say this...I was nervous!

My dad and George were laughing at me because I was all stressed out.

(Typical)
I didn't really have much strategy for the race.

I was hoping to finish under 30 minutes but wasn't going to go home and cry if I didn't.
My dad and I ran a quick little warm up run before it started.
I'm so, so glad that we did this.
When the race actually started, I already felt like my muscles were ready to go.
As everyone lined up at the start line, Joseph's dad talked a little bit about the race and his son. Joseph's pediatrician then sang the national anthem, and off we went.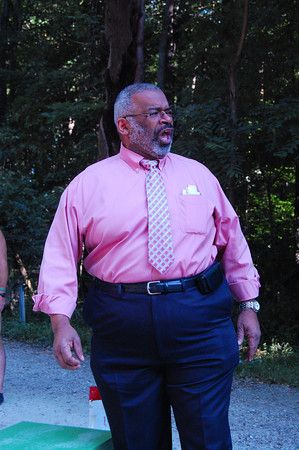 This man had some pipes!
George up there hanging with the cross country guys
In this race, walkers and runners all start together. Most of the walkers started on the side, so the runners could run through easily. My dad and I took our sweet time getting to the starting line because I assumed that my chip would pick up when I crossed the start line. WRONG… when the gun goes off, that is your start time. I did run with my phone in my hand, and I started it right as I crossed the line. I love always knowing my time and pace, but at this race, I barely looked at it.
My dad told me to go on ahead, so ahead I went.

After escaping from behind a pack of moms with jogging strollers (does this annoy anyone else?), I felt like I could actually run.

I would run behind people for a bit, see how I felt, then choose someone else up ahead of me to run behind.

I didn't have headphones in, so I mostly just eavesdropped.

I did this throughout the entire race.

It worked pretty well.
I have a fear of starting out too fast and crapping out in the end. My first mile was 9:25, second was 8:50, and third 8:56. Between the second and third mile there were a couple big hills that minorly sucked… but not too bad.
I ended up finishing in 27:45. When I looked up my time online, it showed a little slower than that, but that was the time that it took me to get to the start. Overall, I'm very happy with my time. I did my first race and learned that there is really no reason to be nervous. I met my goal of completing it under 30 minutes.
M
y dad finished shortly after I did.