Wasn't planning on posting anything today, but I was reading over
Holly's Blog
and couldn't not do this linkup. Am I going overboard on the linkups? The answer is: who cares.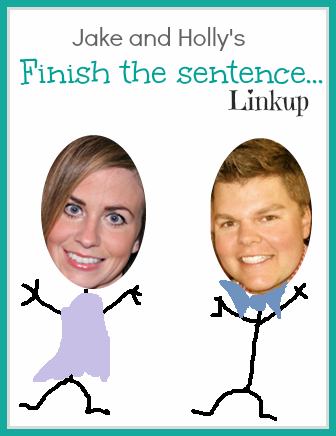 So here is how I finish these sentences...
If I had one extra hour in the day...
...I'd use it to workout! Lies... I'd probably use it to sleep, then eventually use it to waste time on the internet and still go to bed late and get 6 hours of sleep.
I wish my name...
...was easier for people to spell and pronounce. That's what I get for marrying a Greek guy :)
I think anything chevron is...
...maybe starting to go out of style? Currently researching getting a new blog layout.
My last nightmare...
...was that I was getting married to my husband AGAIN, and things were going to hell in a hand basket. No one knew where my dress was, the flowers hadn't arrived, etc. I thought the unprepared wedding dreams stopped after you got married?
Sometimes...
**My first thought was to quote Molly Shannon from Superstar, but I will not.
...I sing to my dog, hit the snooze button 20 times before waking up (I set 3 alarms), sit out in the sun for a half hour just to get a little bit of a tan. <I know Mom, I know....
My last meal on earth would be...
...a turkey burger with cheese, fruit salad, cheesecake from the Cheesecake Factory, and a Diet Coke.
I would much rather be feeling great than looking great .
Mayonnaise...
...is delicious in tuna salad.
10 years ago, I didn't think...
...that I would be doing anything else besides being a professional ballet dancer.
Selfishly...
...is how George and I are living before we have kids. We're trying to squeeze out every ounce of free time, vacation, and spontaneity.
My favorite show on TV right now...
...is Below Deck, hands down. If you don't watch it, you need to start. It's Real World mixed with Real Housewives...on a boat.
And, George Zimmerman...
...has been found not guilty, and now we need to deal with it.